What is Random animal generator tool online?
The objective of this online tool is to generate a list of animals randomly to the users.
So he or she does not know what animals this tool will generate until they swipe (click) left or right.
How does this tool work?
The interface of this tool is linking to a large database.
So, it includes different types of animal images like an elephant, dog, bird, crocodile, butterfly, insect, reptile, Amphibian, exotic animals, wild animals, hybrid animals and so on along with their facts.
Check out: Random Dog Generator tool for Dogs specific images and facts.
Therefore, when you click on left or right button of the tool, it will pick a list of few animals with their names and interesting facts about those animals.
Also, you can continue to click the buttons to regenerate unlimited number of different set of animals.
Moreover, the regeneration loop of this tool is infinite as it is developed based on a technical formula.
10 ways this random animal chooser tool is so useful for you.
You have the ability to get a quick list of several animals randomly along with their pictures.
Further, it makes your life so easy because it does not only give you a list of animal images but it provides you with brief facts about them as well as given below,
Lifespan
Total world population
Foods they eat
Other interesting facts
Further, it avoids you becoming bias when you are selecting a list of few animals on your own.
Because your sample will be limited to the number of animals you already know.
So, this animal generator is a a very effective and useful tool for junior grade students.
Check out Random fish generator for fish species specific random images and facts.
Since, the images and facts they generates using this tool could use in their school projects.
Even, they can download these pictures for their personal use as we do not intend to have any copyright infringement right.
In reality,
You can use this animal image generator tool to generate a couple of random animals to get a basis to draw your own art from scratch.
So that you can submit them for associations like "Deviantart community".
Furthermore,
You can combine few animals and draw some unique mythical animals in your for fun.
If you are in a rush, sometimes it does not come any idea to your mind as to what animal to be chosen or even if you can remember only few animals.
Or, you probably may not know much information about such animal.
But you do not have to worry about that because this tool will do the job for you by generating some cool animal facts in a few seconds!
This animal picker is so easy to operate because it has developed in a way that it could be used by any person (e.g. junior kids, school children, elders and so on)
So, you do not require to have any technical skills to use this tool. All you need to do click right or left buttons to generate images.
Check out More than 1000 Male Dog Names For your Dog.
Above all,
This is actually a fun task.
Because, when you click regenerate buttons, you can see whole different types of animals.
As a result, there could be some weird animal names and pictures that, you might have never seen in your life.
This generator tool presents valuable information for each animal individually.
so, you will be able to grab some knowledge about these cool animals.
When you are boring at office or at your workplace, you can just have a look at on this function. So you can enjoy yourself by watching some of the unknown animal pics and amazing facts about them just keep on swiping right or left.
You can create a small quiz regarding animals by generating some interesting animal facts and ask from your school kids. So, you could have fun with your kids, and they will effortlessly get some knowledge about animals.
Get your Childs to use this tool via a laptop, mobile phone or iPad so they will enjoy this because it shows different type of interesting animals and when they are learning these things in their school, they will remember the names and facts about animals and images they saw via this tool.
Why should you use our tools?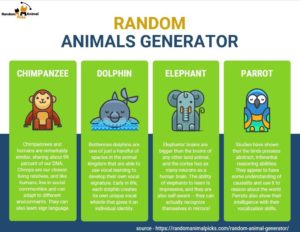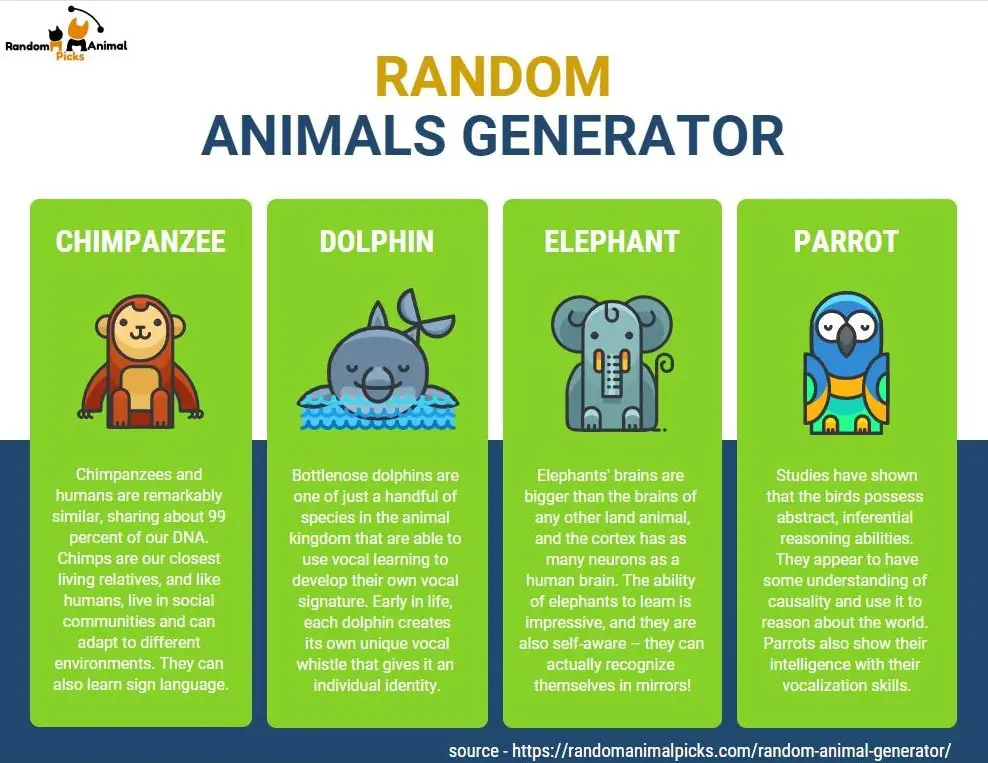 All the animal images generated by this tool comes in high-quality HD resolutions.
So that it is easy for you to grasp the real picture in your mind.
Random Animal Picks team regularly updates the animal images database.
Therefore, all the images you see in this object generator are up to date.
Further, random animal facts presented in this tool along with images are coming out from well-researched information.
Moreover, our team takes necessary actions to make sure that all the facts are reasonably accurate.
Hope you will enjoy our online random animal generator tool, and we will continually improve the tool to provide you with a user better experience.
If you wants us to add a different animal tool which is not currently available, please contact us through our Contact Us page.