Indian Dog names are inspired by various different factors because India is a nation where some people and communities speak more than 50+ different languages.
Therefore, most of the dog names are unique and based on their traditional and cultural values.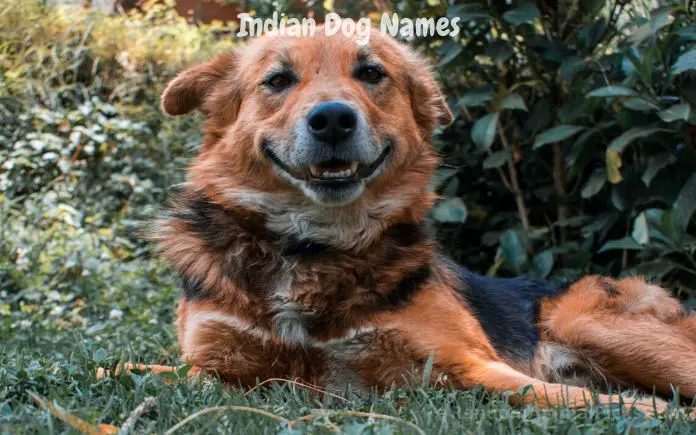 If you have Indian Dog Breeds like Rajapalayam, Combai, Kanni, etc., you may love to give a name that represents their origin.
However, if you like Indian traditional, cultural values, beautiful places in India. You may still want to give Indian Dog Names for your other dog breeds as well.
Explore Breed Specific Dog Names
So, in this article we have listed down 250+ Awesome Indian Dog names Under different themes.
Male Indian Dog Names with Meanings
These dog names are more suitable for your male puppies
Ashok – without sorrow
Ajit – invincible
Arjun – silver
Kanak – Jewell
Amrit – Never die
Batuk – blockhead
Hardik – heart
Dakshi – beauty or splendour
Yogi – practitioner of yoga
Akash – It means "sky."
Drisana – Daughter of the sun
Bandar – port
Gaman – attaining
Alok – brightness. This is a good name for male Labradors.
Adil – Righteous
Falgun – arrival of spring
Bari – water
Beta – daughter
Hafta – gangsters
Kumar – son
Alagan – it means "Handsome"
Amir – commander. It seems that this name is good for a male Pitbull dog.
Haddi – interesting and surprising
Prasoon – Lower
Lamba – spacious or large
Parth – never misses his target
Vishal – magnificence
Nirav – quiet
Raja – Leader. This name is a fitting name for a male Doberman.
Vidvan – science or art
Ronak – Embellishment
Loha – Metal
Safed – Free from danger
Rahul – conqueror of all miseries
Swapnil – Magnificent like dream
Mani – eternity. This makes a perfect name for male German Shepherd dog.
Kutta – it means "dog."
Sumit – well pleased
Raj – king
Rohit – the first rays of the sun
Tushar – Frost
Yasti – Lucky
Lalit – Beautiful or Lovely
Mohan – Fascinating
Tej – super
Check out more Male Dog names
Female Indian Dog Names with Meanings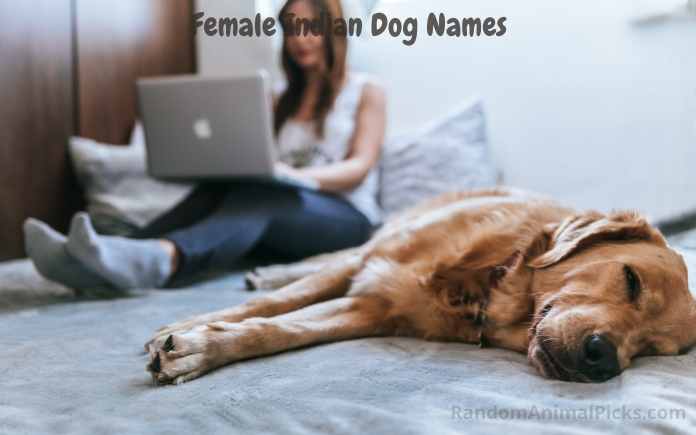 Like all other countries, Indian people also like to name their dogs with human names.
So below is a list of Indian dog names that have inspired from Indian baby girl names
Bala – strength
Anya – Gracious
Sagara – Sea
Indra – possessing drops of rain. It is an excellent name for female Labradors
Ameya – boundless
Amiya – enlightening
Saryu – Fast-moving like Wind
Champak – yellow flowers
Sundar – Handsome
Kaali – God of Luck
Chandra – it means "moon."
Jasmin – A flower
Jihan – The Universe
Amisha – successful person
Sakari – sweet
Devi – It means "God."
Lalasa – care
Kerani – Sacred Bells
Riya – Graceful
Prapti – obtaining
Komala – Tender
Laksha – it means white colour Rose
Sona – sound
Magna – great
Ritu – Season
Rasna – knower of taste
Mesha – Ram
Prama – knowledge of the truth
Pritika – Dear
Ladki – girlfriend
Smita – smiling lady
Neha – Affection
Explore 2000+ more Girl Dog Names
Popular and Best Indian Dog Names
These are some of the common names that use to name puppies by people in India different regions of India like Kerala, Punjabi and so on.
Yogi – Yoga practitioner
Jasmine – Fragrant Flower
Coconut – The usual coconut tree
Cinnamon – Spice
Jyoti – Light
Karma – action
Raja – Ruler or Leader
Tara – the wife of God Brhaspati
Muddu – Happiness
Kochu – small
Tiger – Bengali tiger
Chitti – Butterfly
Nawab – Viceroy
Mowgli – character in a storybook
Chatur – Clever
Baloo – bear
Jhintu – Service for people
Chintu – sun
Gabbar – proud
Indian Dog Names Inspired by Locations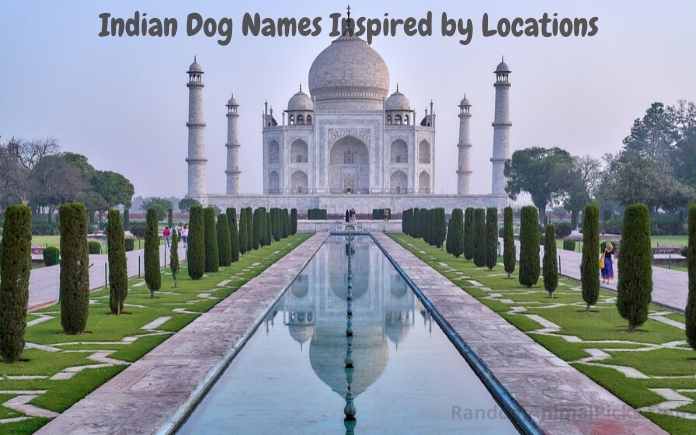 India is one of the largest countries in the world, with many weather conditions and geographical differences.
Further, there are many historical and ancient place to visit in India.
Below are some of the Indian Dog names inspired by famous places, locations and landmarks in India.
Taj – Taj Mahal is a symbolic location in India that represents the Love
Varanasi – pilgrimage center associated with the Ganga river
Harmandir – This a Golden temple of Amritsar
Jaisalmer – This city is called the Golden city
Mumbai – One of the major commercial city in India
Goa – Famous for beautiful beaches
Check out Dog Names in other Countries and Regions
Names of Famous Indian People for Puppies
There are some Indian People like Mahatma Gandhi, who are popular for their reputation and activities all around the world.
Below are some of the Indian dog names inspired by Famous Indian people.
Gandhi – Mahatma Gandhi is a prominent political leader in India
Akbar – Great Moghul Emperor
Nehru – Jawaharlal Nehru was the first Prime Minister of Independent India
Ashoka – All time famous greatest Indian rulers
Shah Rukh Khan – A famous Indian actor
Food & Beverages Inspired Names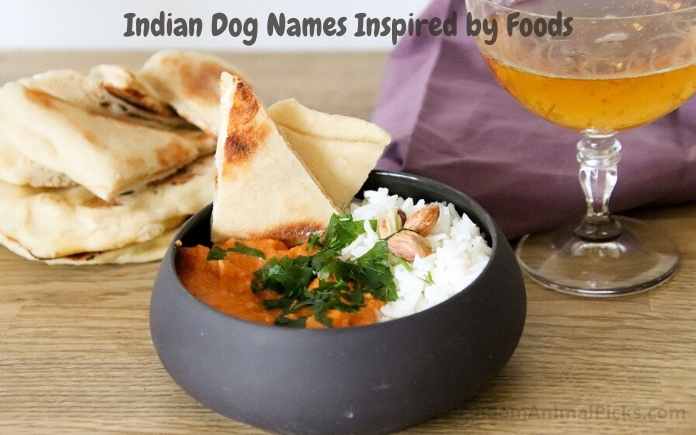 Indian foods are popular in every part of the world.
I'm sure that everyone has heard about foods like Tandoori chicken, Butter Naan and so on.
So below is a list of Indian dog names inspired by Indian cuisine.
Tandoori – A delicious Tandoori chicken is a traditional Indian dish
Masala – Chicken tikka masala is a chicken-based dish with Rice
Paneer – A mild flavoured dish
Naan – this is a puffy flatbread variant
Cute Indian Dog Names
Below are some of the cute Hindi dog names
Chitti
Nawab
Riya
Karma
Akash
Unique Indian Dog Names
Below are some of the unique Indian pet names
Akbar
Paneer
Adil
Gandhi
Goa
Fun and Cool Names
Below are some of the funny dog names for male and female puppies.
Find more Cool Dog Names
Final Words
When you are selecting Indian dog names for your puppies, it is better to consider the fact that your dog can easily distinguish the sound of the name that you have selected form other noises.
Further, you can check out the below-related articles for other country-specific Dog names.